Make Use of Our Many History Resources
You have at your fingertips access to numerous genealogical research engines, newspaper and journal collections, US data collections and more through BadgerLink. Dig deep into research here.
Tips for Researching Local History & Family
Use Our Library Online Resources!
Rather than buying online subscriptions to history research engines, you can use our library editions by coming into the library and using our computer subscriptions to Ancestry.com, Newspapers.com, and Wisconsin Newspapers Archive (WNA).
Explore Your Local History
By Peter Close, local historian & curator
What did 'Ol Doc Ford carry in his medical bag?  Who had the first General Store in Roberts?  When was the bridge over the railway built?  Did Roberts actually have a windmill?  Who was the first settler?  Who owned the land before us?  Who were the Odd Fellows?  Where was Warren Center?  What was the NIKE Base?  Did we have our own High School? The answer to these and many other questions can be found in the Archives/History room.
The History room has a varied collection of our past.  It contains plat maps, some family histories, photos, trinkets of past businesses, articles, yearbooks, historical artifacts, history books, Centennial plates, pamphlets, scrap books and an assortment of other material from by-gone days.  It also houses The Hennessey Collection of Civil War books.
Stop in to check out the Hazel Mackin Community Library Archive Room and see the Past, Today!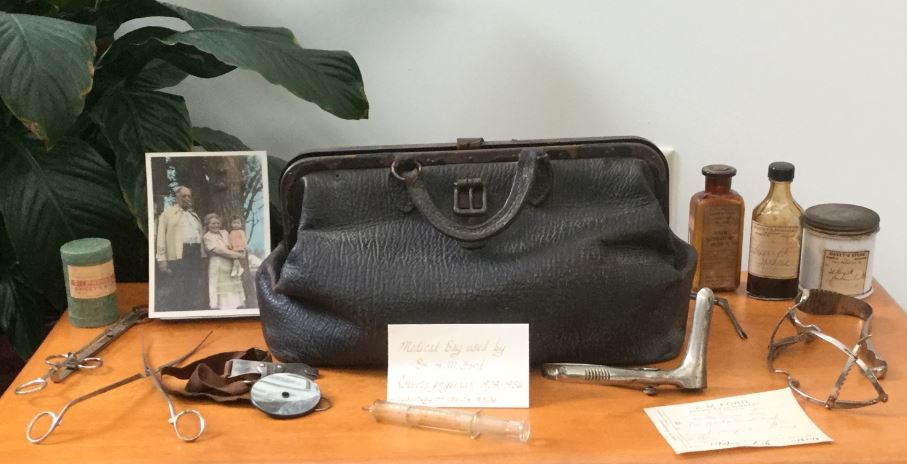 Doc Ford's original medical bag and instruments,
which are displayed in the Hazel Mackin Community Library Archive Room